You cannot reply to this discussion unless you
log in
.
SketchPort 100: The Best of 2015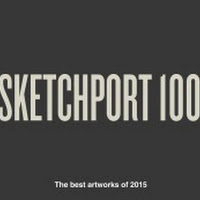 It's that time of the year again!
Last year, I started "The Best of 2014" with a compilation of 60 best artworks that were made in the said year. Also, I awarded the very first Sketch of the year, artist of the year and the first best new artist. I would like to thank you all for making it successful through your positive feedback. ❤️
2015 is almost over. There were tons of artworks that were released this year. And as we approach the end, let us celebrate the greatest achievements of artistry here on SketchPort, that's why I am very proud to announce to you all "SketchPort 100: The Best of 2015"! We are on our second year now! Yaaasss. 🎉 The "SketchPort 100: The Best of 2015" is a year-end countdown composed of 100 artworks that are truly exceptional in terms of execution from the artist and overall performance (number of likes, comments, beauty, etc.), also the artworks included in the list inspired other artists of SketchPort. The rankings will be from, of course, lowest (100th) to highest (#1). Also, I will be awarding the Sketch that really stood out among the rest this year and people who made 2015 an exciting year for SketchPort.
There are lots of changes on "The Best of 2015"! Last year, I was the only one who picked the best artworks, and the major awardees. Now, it is up to YOU! You can now vote for your favorite artworks (even your own!) and the Best new artist! BUT, the Artist of the Year depends on which artist will have the most number of entries in the countdown.
Technically, there are no losers in this countdown. Your artwork being included on the top 100 list is already considered a win. And, I'm sure most of you all will have at least one entry. So, as early as now, CONGRATULATIONS! If your artwork(s) won't make it to the top 100 list, it's okay. It won't make you less of an artist. Be proud of your work and there will still be next year!
AWARDS
There are 3 major awards and 2 special awards, namely:
Major awards
Sketch of the year

Artist of the year

Artist with most number of entries.

Best new artist
Special awards
Complimentary award

Millennium award
RULES (IMPORTANT)
VOTING
All artworks should be rated on a 0 to 10 scale.
Decimal number is allowed (yes, but ONE decimal point only (e.g. 1.5). Please do not send me 3.14 or 3.1434949368958, because it will not be counted. Don't stress me, though.)
SPECIAL POWER: You can rate ONE ARTWORK with an 11! If you really think that there is an artwork that's worth more than 10 points, feel free to use your special power. NOTE: Use it wisely!
You must rate every artwork.
Be OBJECTIVE with your votes.
Magicalhobo's and Mouldy Sponge's scores will be counted twice, if they will participate.
More rules regarding the voting process on the "PM Friendly List" section.
GENERAL RULES - Trolling, racism, homophobia, bitterness and other kinds of inhumane/offensive act will NOT be tolerated.
DATES TO REMEMBER
December 20, 2015: Deadline of your votes. You have (almost) a month to review and check the artworks and give your vote. I know that some of you really need to do that since some of the qualified artworks were published several months ago.

Results day: Secret. 😏 It will be a surprise.
OPTIONAL QUESTIONS
This countdown will include a few optional questions. You are NOT required to submit answers to these questions to participate. They're just for the laughs. Here are the questions:
My best artwork
My best artwork description
My best artwork title
But yeah, it would be fun if you'll include these to your message :)
Replies
Reply